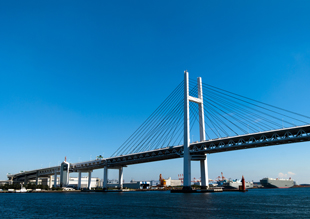 Since establishment in August 1969, as a member of The Keihin Co., Ltd.Group, KEIHIN MARITIME CO., LTD. has grown into a logistics service provider in the field of not only Shipping Agent for vessels calling at the Port of Yokohama but also NVOCC (Non-Vessel Operating Common Carrier) and Export Customs Clearance Services, etc., with business motto of "providing security, ensuring safety and being reliable", so welcomed and relied upon by customers.

Today, trends in economic environments and industrial activities are changing drastically, and as such, circumstances surrounding international logistics service providers are becoming more and more complex and diversified.  In this day and age, we strive to remain an enterprise needed by customers by providing services that satisfy their needs all th time.

Needless to say, we will always continue to work to upgrade the quality of our opertions.  For its part, The Keihin Group will also strive to pursue better services for each customer and to contribute to the realization of a richer world by providing comprehensive logistics services.

May all place confidence upon KEIHIN MARITIME CO., LTD. business operations long into the future, please!
PresidentMasatoshi Sakai